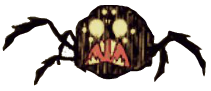 Some lower spirits that were waiting for an opportunity.
Black Spider Health = 100
Black Spider Attack Period = 3
Black Spider Walk Speed = 3
Black Spider Run Speed = 5
Nature's Ally Duration = 480
Summon Swarm Duration = 60
Black Spider Prefab = "fa_summonmonster1"
They are easy to conjure but they die as easily.
It can be summoned with Summon Swarm, Summon Monster 1 and Nature's Ally.
Ad blocker interference detected!
Wikia is a free-to-use site that makes money from advertising. We have a modified experience for viewers using ad blockers

Wikia is not accessible if you've made further modifications. Remove the custom ad blocker rule(s) and the page will load as expected.